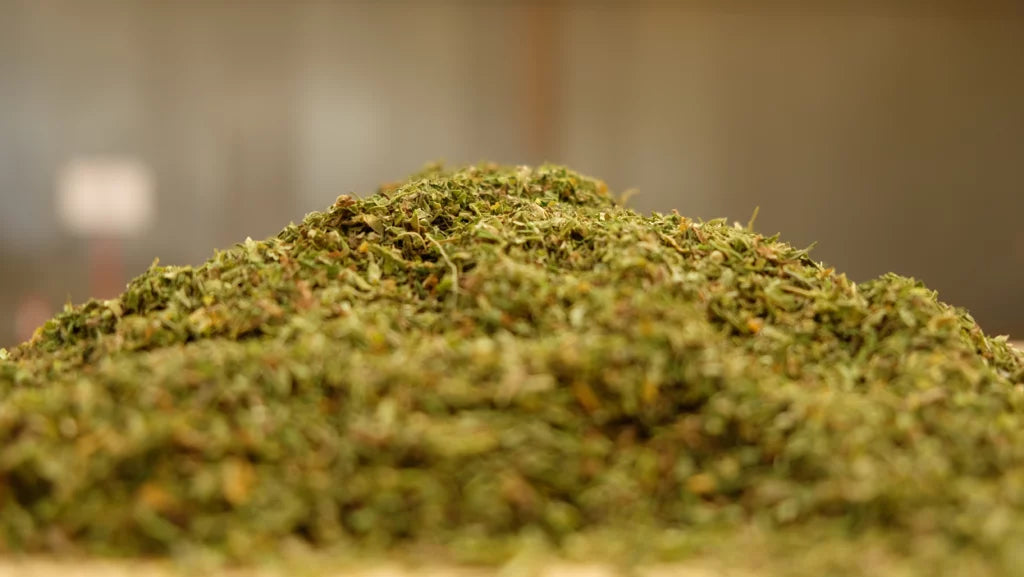 3 rules of thumb you need to buy wholesale hemp biomass
Hemp biomass is a byproduct of the hemp plant that can be used for many purposes and cater to several different hemp supply chains. However we can, for simplicity's sake, divide bulk hemp biomass into two main categories. The first one is used for extraction, and is thus made with mainly flowers, rich in cannabinoids and terpenes.On the other hand, the remaining parts of the plant, those that are of no help in creating a valuable CBD extract, can still …
Hemp biomass is a byproduct of the hemp plant that can be used for many purposes and cater to several different hemp supply chains. However we can, for simplicity's sake, divide bulk hemp biomass into two main categories. The first one is used for extraction, and is thus made with mainly flowers, rich in cannabinoids and terpenes.
On the other hand, the remaining parts of the plant, those that are of no help in creating a valuable CBD extract, can still be used for, say, fiber, fuel and other interesting uses.
Here at Enecta, we only make our biomass from our two EU-certified high yield strains: Enectaliana and Enectarol. The first is specialized in CBD, while the second is dedicated to CBG.
Let us explain why it is important to buy bulk hemp biomass for extraction made with certified strains.
1 - Buy high yielding wholesale CBD biomass
When buying wholesale CBD biomass, you are looking for the highest quality and most enriching product. 
No one wants to waste their time or money on a subpar product that doesn't deliver on its promise. 
Your best bet is to go straight to the source: high-yielding hemp plants grown with care in the ground by experienced farmers. High quality CBD biomass will have a long list of cannabinoids and terpenes along with other compounds like lipids, proteins, chlorophyll and more!
Enecta's bulk hemp biomass is intended for full spectrum extraction. Because of Enectaliana and Enectarol high cannabinoid yield it's much cheaper to produce a top quality CBD or CBG extract from our strains' biomass. 
Compared to an average industrial hemp biomass you will be able to get from 3 to 4 times more extractable cannabinoids from our biomass, which means you'll make more with less. This is crucial, as the present-day hemp market is witnessing a radical shift in terms of prices. Two years ago, bulk CBD oil cost twice as much as today and many players could just throw whatever CBD oil on the market and they would have found buyers.
Nowadays, things are different, competition is fierce, more and more players join the fray, but at the same time the one thing that is mandatory right now is quality, certification, and a healthy price.
Our bulk hemp biomass ticks all the above boxes.
2 - Buy bulk, lab tested CBD biomass
When you're looking to buy bulk hemp biomass, it's important to make sure you're getting the best quality product.
At Enecta, we've been in the business for over 10 years and our team has extensive knowledge about hemp products and their benefits. That's why we think that, nowadays, to prevail in a super-crowded hemp market it is fundamental to go all in on biomass made from certified hemp strains, like Enectaliana and Enectarol.
Our EU-certified hemp biomass is one of the most reliable solutions on the market today. It's made from 100% organic hemp plants and has been thoroughly tested for quality control by both our own internal team and an independent lab.
With all of this information at your fingertips, it's easy to see why buying wholesale hemp biomass should be done through experienced suppliers like us!
Extracting from certified hemp biomass allows you to be sure not only that all cannabinoids are there, in the promised quantities, but that you will also get the full phytocomplex, terpenes, flavonoids.
All these are crucial if you want to actually extract a real full spectrum extract. If biomass is subpar, or if it only includes small amounts of cannabinoids, or only CBD, then your extract will not meet the high standards that consumers are asking for in 2022.
3 - It is important to source your wholesale hemp biomass from a reputable supplier
It is important to source your wholesale hemp biomass from a reputable supplier.
Unfortunately, there are many unscrupulous suppliers who are selling low quality hemp extracts that are not what they say they are. They may be illegally THC-containing and/or incomplete full spectrum extracts.
Whose fault is it? Is it the retailer or the supplier's fault?
One could argue that is a shared fault. As suppliers we at Enecta do our homeworks to guarantee that our supply chain is thoroughly assessed by third parties, compliant and well integrated, and let's not forget that it all starts from the hemp strain you choose, as biomass is just a byproduct of your plant. 
So if the plant from which biomass has been made is average, then you get an average biomass.
The same goes for those selling extracts with illegal THC quantities, that's not the supplier's fault, but it is rather due to negligence on both parties.
At Enecta we get sure that our biomass is 100% compliant, is packed with legal cannabinoids and terpenes to let our retailers scale up their extraction business. On top of that, we also provide assistance with those who may want to plant and create thei own biomass, by selling EU-certified hemp seeds (Enectliana and Enectarol).
If you're looking for a reliable source of wholesale hemp biomass, look no further, we have been in business for more than 10 years and we have built our reputation on providing the highest quality wholesale hemp biomass (made from EU-certified strains) at an affordable price.