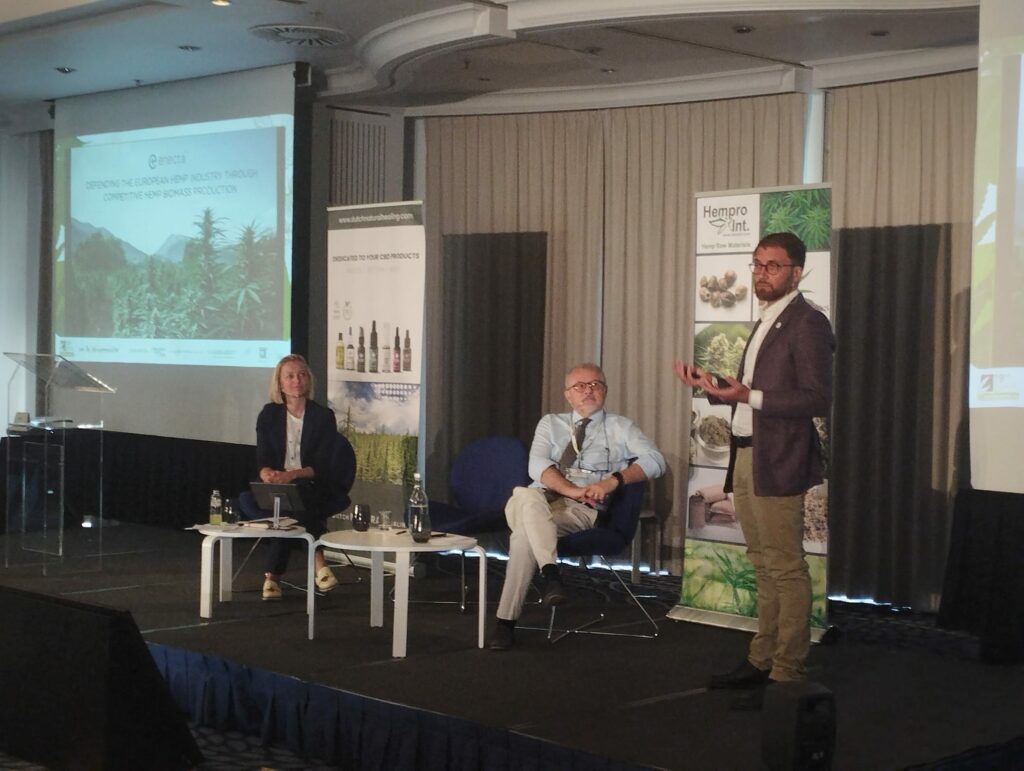 DEFENDING THE EUROPEAN HEMP INDUSTRY THROUGH COMPETITIVE HEMP BIOMASS PRODUCTION
Last Tuesday, Jacopo, Enecta Farm CEO, and chief breeder, was at the 19th EIHA Conference, in Brussels.The conference has given to all attendees a chance to discuss pressing issues the European hemp industry is facing:-how to come out of the growing pains -new market opportunities in concrete, food, feed, and textile-how to develop new varieties that can compete with Extra-EU onesAt the conference, Jacopo shared the solution to the above problems that Enecta Farm has adopted over the last years.What follows …
Last Tuesday, Jacopo, Enecta Farm CEO, and chief breeder, was at the 19th EIHA Conference, in Brussels.
The conference has given to all attendees a chance to discuss pressing issues the European hemp industry is facing:
-how to come out of the growing pains 
-new market opportunities in concrete, food, feed, and textile
-how to develop new varieties that can compete with Extra-EU ones
At the conference, Jacopo shared the solution to the above problems that Enecta Farm has adopted over the last years.
What follows is a statement by Jacopo himself. A love letter to the Euro hemp industry, to spur it to get back on track.
It's time for the European hemp industry to fight back
ast Tuesday I had the chance to join many other fellow hemp professionals in the lively setting of Brussels.
Seeing so many familiar faces, and new ones too, has been a relief. I mean, I know all these people, I follow them on social media. Yet, it is one thing to know about them from LinkedIn, quite another to see them in person, to know that we are not alone, that there are real faces and voices backing the European hemp industry with facts, hard work, and dedication.
That's why I'm even more eager to point out the challenges that we, as an industry, are presently facing.
Let's start from the biggest source of concern:
The gap between the Extra-EU hemp industry and the European one is widening.
What's the root of the problem?
I'd say, regulations, mindset, and desire to innovate at all costs.
So, regulations. In the US it is possible to register and certificate hemp strains that have been made for the extraction market.
In Europe, you can try to certify these kinds of strains, but they will be assessed and trialed just like the other fiber-oriented varieties. That is preposterous. We are talking about two very different supply chains within the hemp industry. 
This is mirrored by the lack of high-quality strains for extraction in the EU. Aside from Enectaliana and Enectarol, the market does not have extraction-dedicated strains, and this is a crucial pain point.
Outside of the EU, you get certified hemp genetics with 6% CBD, better yield (1 ton of biomass=30kg of CBD), and, as a consequence, lower prices, around 1.000$ for a kg of CBD isolate.
That's the pressing problem. How can we compete if specialist strains, such as our Enectaliana, struggle to be certified because their main purpose is not even understood by those in charge of certifying?
For starters, we need a fast track to certify specialist hemp strains, for extraction and all other supply chains, it's important to keep the EU Common Catalogue up to date.
Second, the mindset, how did we, at Enecta Farm, tackle the above-mentioned issues?
We could've waited for regulators to implement a new registration and certification path for extraction-dedicated hemp strains. 
Yeahnah, that's not what we did. 
Along with the other breeders here at Enecta Farm, we got down to business, researching, conducting field tests, and the results are Enectaliana and Enectarol.
One is the first high CBD strain made for extraction in the EU, and the other is its CBG sister. Together, they mark a solid first step towards making specialist varieties for the extraction industry. 
Breeding our own varieties has allowed us to mend our prices in an ethical way. By ethical I mean that we did not undervalue our products. Having high-performing strains means that we can now offer better quality at a better price, similar to what is happening in the US and Switzerland. It's actually a pretty simple calculation.
On average, we get 3.000 kg of dry biomass from Enectaliana, and 68.75 kg of CBD to extract. The average industrial hemp strain yields around 1.000 kg of dry biomass, and 11.25 kg of CBD to extract. Now do the math and you'll see that a lower price does not translate to a lower quality.
The last thing I'd like to talk about is innovation.
This is the hardest part. Innovation, like creativity, does not grow on trees. You can't standardize that, you can't make it repeatable, you can't tame it.
The only thing one can do is to foster it, by taking bold steps toward the unknown.
During the Conference, I've seen many fellow hemp professionals partaking in my will to innovate our industry, to venture into new territories. And that made me feel safer in a way, it gave me the certainty that there is a community of like-minded people pushing the "hemp cart" in the same direction.
There are many ways through which this could be accomplished. 
First, by harnessing the potential of Cannabis, cannabinoids, terpenes, and other molecules that the plant keeps on giving us. I think we're still just scratching the surface. The Endocannabinoid system plays a central role in our anatomy and physiology, and phytocannabinoids are able to steer, modulate, and mend our condition in a positive way. It's mind-boggling how much they can do.
Second, by applying lateral thinking. I've seen a lot of "companies" in our industry enter the game, and start selling CBD Oil on an e-commerce website and that was it. No mission, no interest whatsoever in the plant, no curiosity, just the sheer will to make some bucks.
Thus, when I say lateral thinking, I mean that we should always strive to interpret the market, what customers need, how we could educate them, help them with more transparency, making them more conscious of what Cannabis can do for them, their families, and the environment.
Ok, this last bit sounded a bit like a green-washing advertisement. 
But I mean it, we can't just keep on selling the same old three-four products ad aeternum. This is not going to work, we're no more in stage one of the hemp business, where everything was new. 
The competition is very high, and the world economy is facing tough times, so we need to come up with new solutions, for us and for customers, otherwise, we would become like a bunch of writers with no readers. 
That's it, I'm now back in Bologna, with a pinch more of hope and a ton more determination.