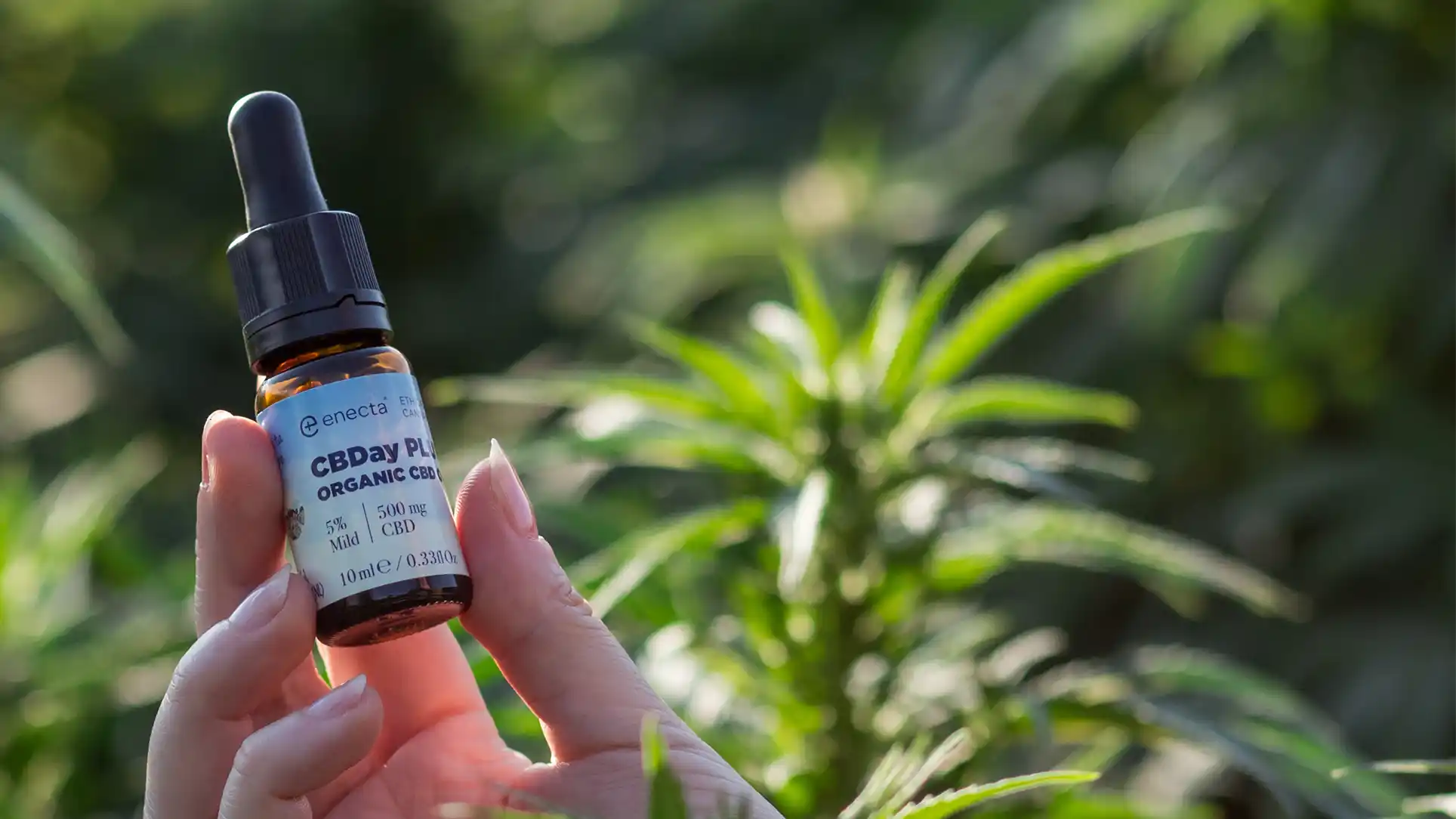 CBDay Plus: the new frontier of CBD
First things first: today we launch our new product, CBDay Plus 5%! It is Enecta's first full spectrum CBD extract, marking a historical step for us.It also is the first extract of its kind for two main reasons: it comes at an ethical price, is accessible to all resellers, and its combination of phytocannabinoids and terpenes is unique. We used our proprietary hemp strain, Enectaliana, to source biomass for the extraction of CBDay Plus. This allowed us to cut costs and, most …
First things first: today we launch our new product, CBDay Plus 5%!
It is Enecta's first full spectrum CBD extract, marking a historical step for us.
It also is the first extract of its kind for two main reasons: it comes at an ethical price, is accessible to all resellers, and its combination of phytocannabinoids and terpenes is unique.
We used our proprietary hemp strain, Enectaliana, to source biomass for the extraction of CBDay Plus. This allowed us to cut costs and, most importantly, to offer a real full spectrum.
Let's see how it all started.
The making of Enectaliana, a high CBD strain, tailor-made for the extraction industry
The key to making a great hemp extract is great biomass. That's sort of an open secret, right?
Not exactly.
One of the reasons behind Enecta's efforts into breeding its own hemp strain for extraction is because of a substantial lack of strains 100% dedicated to extraction.
Most of the EU-registered strains are still primarily focused on fiber production.
And this is a key issue for the whole industry. Most CBD oils are sourced from poorly-performing biomass, and thus, producers need a higher quantity of it to get a decent amount of extracted cannabinoids and terpenes, true to the claim on the label, be that 5 or 10%.
Another key issue is that sourcing CBD oil from poor biomass, coupled with aggressive extraction methods, results in poor CBD oils.
Enters Enectaliana.
One hemp strain to rule them all, one hemp strain to find them (terpenes)
5 years ago, Enecta was already one of the leaders in the CBD oil industry. Things were going really well, and the industry was booming.
Yet, even back then, Jacopo and the other Enecta breeders realized that something had to be done. Things were not sustainable as they were.
The only way to make them sustainable was by integrating Enecta's supply chain and stopping outsourcing crucial parts of the manufacturing process. The first step of said integration was creating a new hemp strain, made specifically for the extraction industry.
That is where Enectaliana comes from. It took 5 years of research, field and lab trials, and continuous efforts, but today we can finally say it was worth it. We registered the strain to the CPVO, and it's going to become the first EU-certified variety tailored for extraction.
There is no other strain that offers such a carefully selected combination of terpenes and phytocannabinoids.
CBD, CBG, CBC, CBN, and beta caryophyllene, nerolidol, alpha humulene, bisabolol. 
All these make up an interesting phytocomplex, and this is vital, as more and more studies are showing that Cannabis' benefits are more holistic rather than individual.
Of course, some cannabinoids have been more thoroughly researched, and we know what sort of benefits they can offer. However, Cannabis has more than 100 of them, and more are being discovered. The same goes for terpenes, it was thought they were mostly aromatic molecules, whose main role was that of endowing smokable flowers with intriguing scents.
Now, we know that there is more to the entourage effect than just cannabinoids, terpenes play an important role too, they modulate the effect of the likes of CBD and THC on the Endocannabinoid system.
And this brings us to our new full spectrum extract, proudly made with Enectaliana:
CBDay Plus
CBDay Plus: Enecta Full Spectrum CBD Oil
Okay, enough with fundamentals, it is time to jump straight into our new product.
Here's a breakdown of its main features:
Ethical price for all resellers.

 By using our own strain and high CBD biomass and integrating our supply chain, we cut down costs significantly. This allows us to offer fair B2B prices for a product that is leagues above any alleged full spectrum on the market.

Made with Enectaliana

, the first EU-certified strain tailored for the extraction market, created and registered by our breeders, the first of its kind. High CBD content, exceptional cost-efficiency.

A

 

real full spectrum

, packed with phytocannabinoids and terpenes that have been carefully selected by our breeders. 

Cannabinoids: CBD, CBG, CBC, CBN.Terpenes: beta caryophyllene, nerolidol, alpha humulene, bisabolol.
Innovative extraction method, Onestep

. As the name suggests, the whole extraction is carried out in just one step. Other methods, such as Ethanol and Supercritical CO2, are unable to filter the right amount of undesired substances, such as waxes and chlorophylls. Onestep, on the contrary, filters out both and preserves more terpenes and cannabinoids.
Let's delve into each point.
Ethical Price
On top of creating more than 20 new hemp strains to address the market's needs. We integrated our supply chain to cut down manufacturing costs and enforce our high-quality standards at each link of the supply chain.
Then there is the sourcing issue. When you outsource biomass production and resort to buying it from the cheaper seller, you get dismal results. Extra-EU biomass is oftentimes not certified, provides no traceability, and you may even end up having an extract that has illegal THC percentages.
So, we do everything on our own, starting from Enectaliana seeds up to biomass. This way we are dead sure of the quality of our CBD products and we save a huge amount of money on manufacturing costs.
That in turn allows us to offer what we call an ethical price to all resellers. Why ethical?
Because the CBD market has seen many "companies" overprice their products during the CBD craze, thus scaring away a lot of customers.
We want to stop that and, thanks to our supply chain revolution and Enectaliana, we can do that.
This means that CBDay Plus comes at the best price in Europe for a real full spectrum CBD oil, full stop.
Made with Enectaliana
This point has already been extensively covered above, so let's jump right to the next one.
A real full spectrum CBD oil & innovative extraction method
This is important. In the last few years, more and more customers have become skeptical over the quality standards of many CBD products.
The reason for that is to be found in a market that has been literally flooded with average, to say the least, CBD oils, that were allegedly "full spectrum", whereas, in reality, they were offering a single cannabinoid, usually CBD, or at best a dulled terpene profile.
That is why at Enecta we partnered with the best in the extraction industry, Becanex.
By adopting their unique extraction technique, Onestep, we are now able to offer a CBD extract that preserves Enectaliana rich terpene and cannabinoids' selection.
We have already said this, but some things need to be reiterated: Enectaliana terpene profile is the first of its kind, no other strain has it.
This means that CBDay Plus, on top of being an actual full spectrum, is also the first full spectrum of its kind.
If you read until here, you are probably more than curious to learn more about our new extract. So, what are you waiting for?