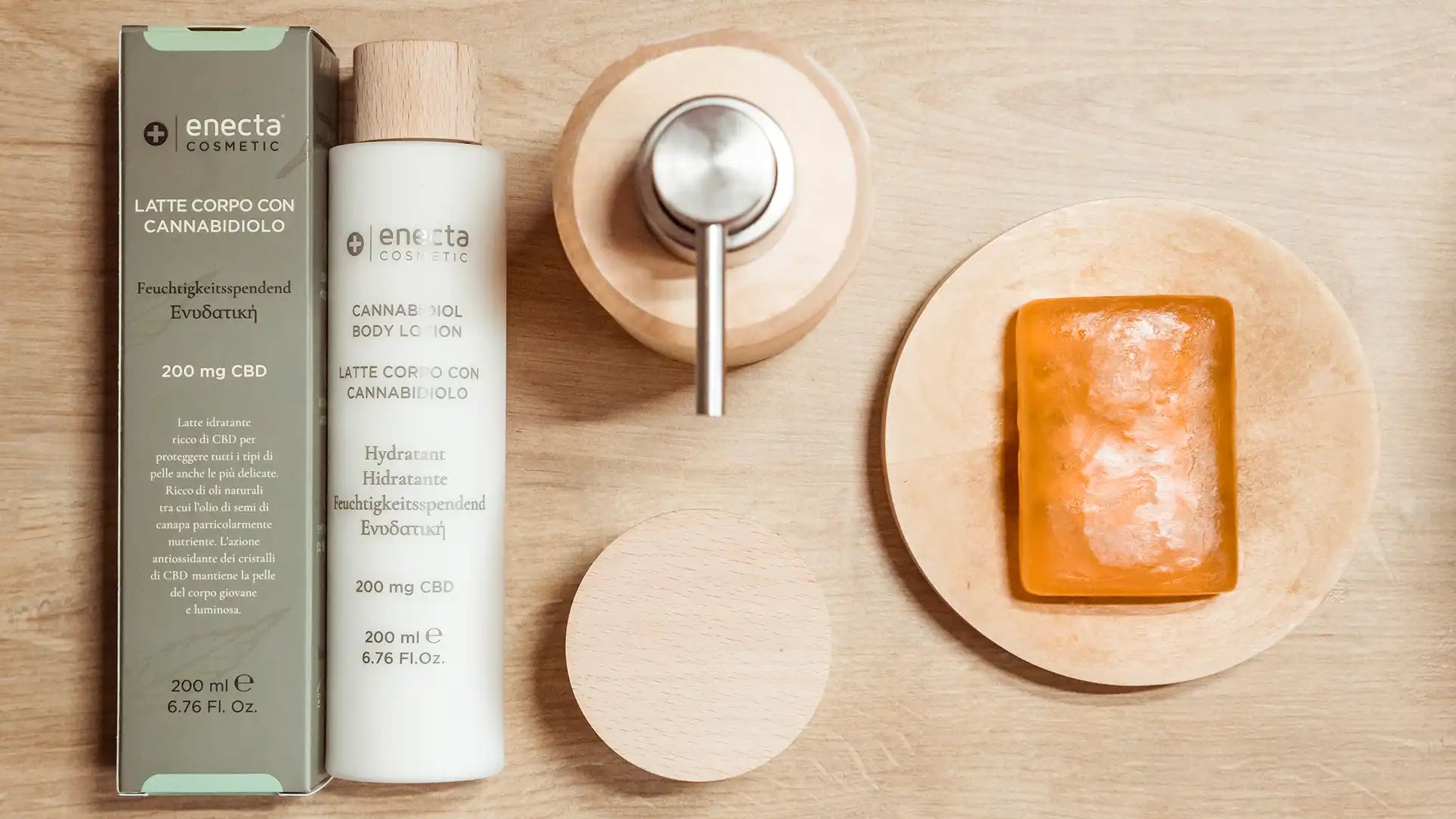 Enecta Farm launches its exclusive CBD cosmetics wholesale
More and more studies are confirming the importance of CBD cosmetics for our body care. Interestingly, the industry is still at an early stage, meaning that there are plenty of chances for new retailers to get their feet wet and open their new CBD shops! However, it's important to find the right CBD cosmetics wholesale. When it comes to skincare, all products should be lab-tested and produced per industry standards. Last but not least, they should comply with the local THC levels …
More and more studies are confirming the importance of CBD cosmetics for our body care. 
Interestingly, the industry is still at an early stage, meaning that there are plenty of chances for new retailers to get their feet wet and open their new CBD shops! 
However, it's important to find the right CBD cosmetics wholesale. When it comes to skincare, all products should be lab-tested and produced per industry standards. Last but not least, they should comply with the local THC levels for such products.
Let's not put the cart before the horse though, if you're thinking about opening your own CBD shop, you might want to read some cool stuff about the industry's potential in the next few years.
CBD is worth the hype, numbers don't lie
In 2026, CBD products are projected to sell for almost $16 million in the US alone. That is a baffling 11 million increase compared to 2019. 
Globally, the total market is estimated to reach USD 47.22 Billion by 2028, up from USD 4.9 Billion in 2021.
Aside from that, the industry is overcoming growing pains and it's finally maturing into a foundational component of the world economy's push towards greener solutions.
This also means that hemp supply chains are becoming much better at satisfying customers' needs. 
CBD wholesalers can now provide full traceability and transparency for any product they sell to retailers, be that CBD beauty products or hemp flowers.
The problem is, many wholesale CBD players won't do that, and this results in a lack of trust from customers, as sometimes the oils they buy have THC in them, or don't have the promised amount of CBD. This is crucial, as transparency makes all the difference when it comes to the EU allowing, or not, CBD cosmetics.
Enecta Farm wants to bridge this informational gap while making CBD products accessible to everyone. More on this later, first, let's talk about CBD infused cosmetics.
Can CBD be used in cosmetics?
Not only cannabidiol can be used in cosmetics, but it is proving to be a high-performance component in many body care formulations.
Thanks to the benefits of CBD, the effectiveness of many topical products is increased.
Let's break down the main benefits:
CBD cosmetic products are our skin's best ally 

for fighting inflammatory symptoms and free radical damage

.

CBD cosmetics also help our skin by 

reducing sebum production

, thus fighting acne, 

a study says

.

The Phytocomplex

, i.e. the joint effect of cannabinoids and terpenes, is vital for the efficacy of CBD cosmetics. All together, Cannabidiol, terpenes, and other cannabinoids provide powerful antioxidant and anti-inflammatory properties.
However, not many CBD wholesalers have this level of knowledge of the products they sell. Many times, they're just in the game for the money. The CBD industry is growing at a staggering pace, and it is all but normal that many want to jump on the bandwagon while they still can and prices are lower.
Yet many shop owners don't do their homework and buy skincare products from questionable CBD cosmetic wholesalers.
At Enecta Farm, we have full control of our supply chain, from seed to extract, it's all on us.
Enecta Farm's new approach to CBD skincare
When we created our CBD cosmetics wholesale, we were 100% sure about our priorities.
Zero tolerance on the THC level, meaning that all our skincare products are compliant with the 0.2% requested by the EU.
Full control of the supply chain. We do everything, our breeders have developed two high-performing hemp strains, one specialized in CBD, the other in CBG, that make tremendous extracts and the oil we got from them is the backbone of our exclusive CBD cosmetic line.
Lab-tested. All our products are thoroughly lab-tested and compliant with the highest industry quality standards: Cosmetic GMP Standards (UNI EN ISO 22716). They are free from the main heavy metals like Cadmium and Chromium.
This means our CBD cosmetics offer the kind of traceability and standardization that one would expect from a reliable wholesaler. 
Having our own B2C line with Enecta, we know damn well that not many customers will give you the luxury of a second chance. So, when CBD shops retailers ask us for guarantees we provide them even before they ask for them. This is our DNA, transparency over unethical profit. 
This brings us to the next point.
An ethical CBD cosmetics wholesale
We've carefully made everything we sell. It all originates from our sunny fields in Italy to end up in our partners' laboratories, where our exclusive formulations are created.
Our full control of the supply chain allows us to offer competitive prices, without compromising on quality. The pieces are those of wholesale CBD cosmetics, actually, they are even cheaper, but the quality is above average.
We consider our prices healthy, as we acknowledge that, like us, our resellers need to make a profit, too. 
We want the hemp industry to thrive, not to speculate on it. Too many hemp brokers out there trying to profit from small CBD shops. As we said before, they have to do that because they are just a link in the hemp supply chain.
We're different, and this shows when it comes to offering an ethical price to our resellers for our CBD beauty products.
On top of that, we keep a strong bond with our territory. 
Our CBD products are made from high-quality hemp strains, nurtured by the Italian sun, and harvested by local farmers. 
We fund academic programs for young hemp farmers and create job opportunities for the locals.
Our aim is creating a hemp ecosystem, along with our partners. 
Want to join?
Drop us an e-mail at info@enecta.farm