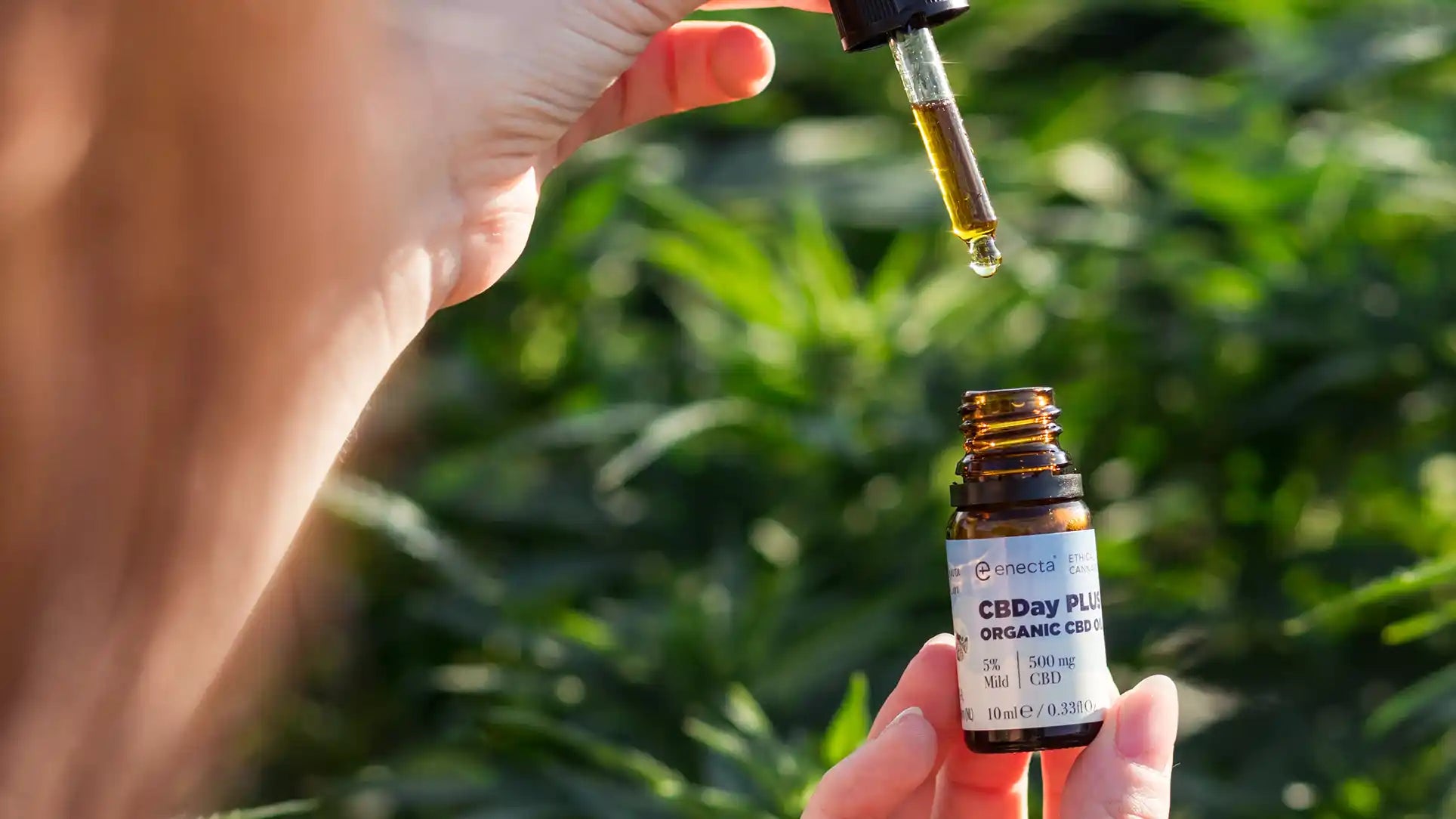 The complete guide to CBDay Plus
Enecta Farm complete guide to CBDay PlusCBDay Plus is Enecta's new range of full spectrum CBD oils, designed by our dedicated team of breeders.It took 5 years to create our new extract, a new hemp strain, an enhanced supply chain, and a lot of studies.But we think that CBDay Plus really stands out from its competitors. Keep on reading to discover why. What's CBDay Plus? CBDay Plus is Enecta Farm's brand new full spectrum CBD extract. Available in three concentrations, 5%, 10%, and …
Enecta Farm complete guide to CBDay Plus
CBDay Plus is Enecta's new range of full spectrum CBD oils, designed by our dedicated team of breeders.
It took 5 years to create our new extract, a new hemp strain, an enhanced supply chain, and a lot of studies.
But we think that CBDay Plus really stands out from its competitors. Keep on reading to discover why.
What's CBDay Plus?
CBDay Plus is Enecta Farm's brand new full spectrum CBD extract. 
Available in three concentrations, 5%, 10%, and 15%. Each one has been designed to cater to the needs of a specific segment in the hemp market.
The terpene profile and the selected phytocannabinoids remain the same in each concentration. What changes is the amount of PPM (Parts Per Million) of organic compounds. 
This means that each product has a different entourage effect. The 5% is the milder one, while the 15% is designed for diehard CBD consumers, whose bodies are well accustomed to higher intakes of phytocannabinoids.
To create CBDay Plus we harnessed the power of a unique hemp strain, Enectaliana, created by our breeders with a specific focus on the extraction of cannabinoids, to attain a real full spectrum.
How is CBDay Plus made?
When we decided to design a new CBD oil, we faced a critical issue: 
All the hemp strains that European hemp companies were (and still are) using for extraction are old varieties whose main purpose is to cater to the needs of the hemp fiber supply chain.
This means that all extracts sourced from these kinds of hemp strains are far off from being a real full spectrum. 
Thus, we decided to start from scratch, and create a new strain, specifically for extraction: Enectaliana.
Compared to the average industrial hemp variety, Enectaliana has twice more CBD and cannabinoids, and it's also endowed with a unique terpene profile, carefully crafted by Jacopo, our CEO and chief breeder, after in-depth studies on Cannabis phytocomplex and the entourage effect.
The good news is that the efforts paid off, as Enectaliana has a range of desirable and high-performing qualities:
High germination rate
Genetic stability
Varietal purity
Material traceability
And, most importantly, is EU-certified! This means that extracting from Enectaliana is safe, allows us to track every step of the process, and warrants that our extracts are sourced from 100% Italian (and thus European) raw materials.
The last bit is especially important, as in the last years we all witnessed an invasion of extra-EU raw materials bearing no reliable quality and safety standards.
Extraction: the other horn of the dilemma
So, the first step was that of creating a new hemp strain, 100% dedicated to extraction, and we nailed it. 
The second step, when it comes to creating quality hemp extracts, is that of adopting the least aggressive extraction methods.
All those ethanol-based extracts did not appeal to us, at all. We did not want any leftover traces of unwanted substances in our CBD oils. What kind of full spectrum can you offer if you cannot even clean it from dangerous chemicals?
Thus, we decided to pair up with Becanex, the European leader in innovative hemp extraction. 
Together, we came up with a solution to extract more cannabinoids and terpenes from Enectaliana's high-performing biomass, leaving no unwanted chemicals and filtering out more waxes and chlorophylls.
The method is called Onestep and delivers a clean, safe, and CBD-packed extract in one step, with no massive post-production intervention required.
This means that, aside from being a real full spectrum (see below), CBDay Plus is also a more natural product, free from chemicals that may alter or hinder the potency of a CBD extract. 
Why do we call CBDay Plus a real full spectrum?
"FULL SPECTRUM" has become a buzzword that bears little resemblance to its initial meaning.
Back in the 90s, Raphael Mechoulam published his work on the entourage effect. The idea, very roughly, is that Cannabis organic compounds, such as phytocannabinoids and terpenes, enhance their activity when working in synergy.
Here's ISSUE #1 with FULL SPECTRUM:
Once "Entourage Effect" became widespread, the prominent strategy in the hemp industry has been something like that: "if we extract more cannabinoids and terpenes, we can offer an extract bearing a stronger entourage effect!"
This is not wrong per se, but it's important to consider that Mechoulam's work was on CANNABIS, not hemp, so yes, more than 0.2% THC. 
Therefore, when we say full spectrum in the hemp industry, let's not forget we are leaving out THC, which plays a crucial role in the plant's economy. Hence, we're talking about a PARTIAL entourage effect.
ISSUE #2 with FULL SPECTRUM:
Let's say one acknowledges ISSUE #1 but still wanted to create a Full spectrum packed with a solid amount of organic compounds. That is what we wanted to do at Enecta Farm.
In this latter case, what's the problem? We already mentioned it briefly.
INADEQUATE HEMP STRAINS
Most strains used for extraction when we started developing CBDay Plus were old varieties made for fiber. Therefore, their potential entourage effect was less than perfect.
There weren't strains that focussed solely on extraction and achieving a better entourage effect. Thus we created Enectaliana (see above if you skimmed right here).
Our strain has been instrumental in increasing the amount of major and minor cannabinoids and terpenes while still abiding by the rules. This means that our extract fares much better towards facilitating the entourage effect.
CBDay Plus comes at an ethical price
All three concentrations of CBDay Plus (5-10-15%) are ethically priced.
This is no haphazard move. We planned for this launch for a while. 
Now, if all we have said thus far is true, how did we manage to keep the price of our new premium extract at an affordable price?
The answer is both simple and complex, a conundrum if you want.
When you source your CBD extract from a high-performing strain, such as Enectaliana, you get more with less.
On average, from one hectare of planted Enectaliana, we got 68 kg of extractable CBD, versus 9kg of the average industrial hemp variety.
Besides, having integrated our supply chain, we manage all the manufacturing processes, aside from third-party lab tests, and are thus able to enhance each stage so as to significantly reduce production costs.
Combined, these two factors allow us to offer a price that is much cheaper than that of many "full spectrum" oils on the market while guaranteeing a premium quality.
And, on top of that, everything can be tracked down, in all transparency, which means that both resellers and customers will know exactly what is in the product they are purchasing.
No tricks, just a real full spectrum at an ethical price.
CBDay Plus specifics
Here is the breakdown of the unique combination of terpenes and phytocannabinoids you will find in each CBDay Plus (in different Parts Per Million).
Phytocannabinoids: CBD, CBG, CBN, CBC
Terpenes: beta caryophyllene, nerolidol, alpha humulene, bisabolol
100% made in Italy
GACP & HACCP compliant
3rd party Lab-tested
If you have read this far, it means you are probably up for some more info and a quotation, right?
 Click below and talk with our sales team!