Skip to product information
CBNight FORMULA - 30 ml
If you are seeking to take care of your sleep in a light but effective way, CBNight Formula is just what you need.
CBNight Formula is a natural and innovative product containing a synergistic blend of CBD, CBN and melatonin.
It is a formula specifically developed to enhance sleep quality and support both the induction and maintenance of sleep, tapping into completely natural physiological processes.
CBNight Formula is a product suitable for all those who suffer from insomnia, who have sleep and waking disorders and who are new to cannabinoids.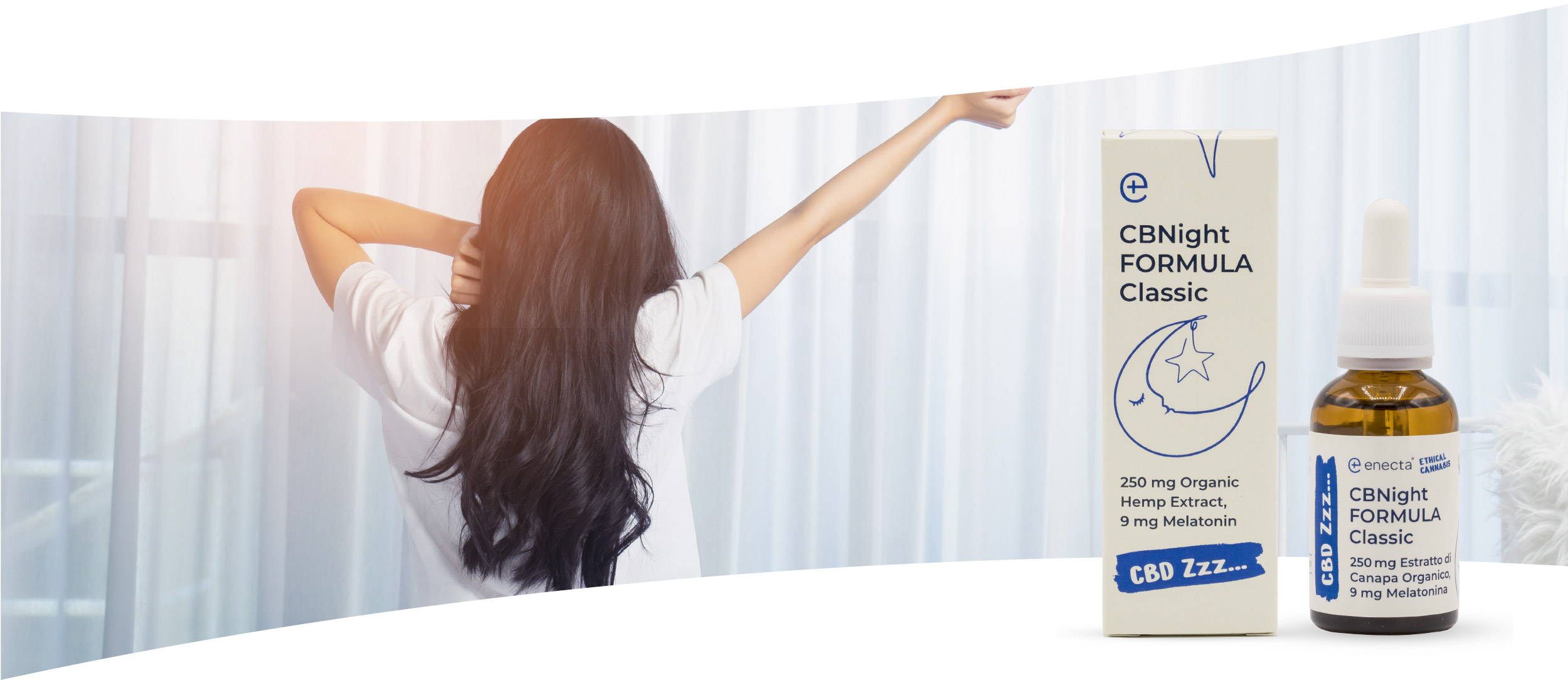 CBD (cannabidiol) and CBN (cannabinol) are two phytocannabinoids found in the Cannabis Sativa plant. Both interact with our endocannabinoid system, producing relaxing and soothing effects that help to induce sleep. In the blend of CBNight Formula, these two cannabinoids work in synergy with melatonin, an endogenous hormone produced by the pineal gland in our brains. Melatonin has the specific function of regulating or restoring the sleep-wake cycle and promoting the maintenance of restorative sleep.
---
Our products are certified:
(in addition to following the GACP guidelines, which ensure a safe raw material)


---
CBNight Formula is very useful for treating mild to moderate sleep disorders.
The relaxing and soothing action of the cannabinoids is enhanced by the entourage effect created by their synergy. This action is combined with the sleep-regulating effect of melatonin, making CBNight Formula particularly effective for:
counteracting insomnia

helping to reduce the time needed to fall asleep

avoiding night-time awakenings

making sleep restful and regenerative

reducing morning anxiety

synchronzsing the circadian rhythm and restoring your natural sleep-wake cycle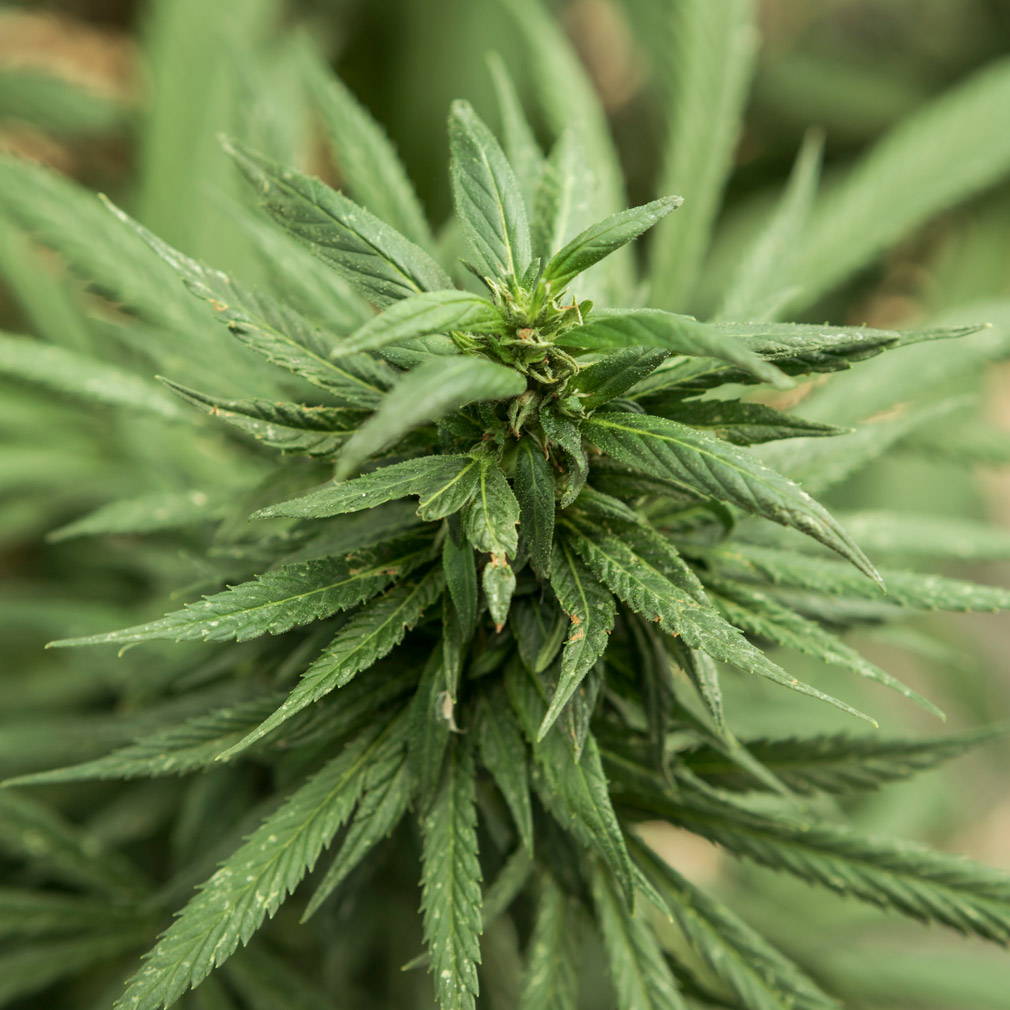 CBNight Formula contains (in 1 Ml) 0.3 mg of melatonin, 4.17 mg of cannabidiol (CBD) and 4.17 of cannabinol (CBN). In addition to the primary function of sleep induction and maintenance for which the formula is designed, CBNight Formula has analgesic and anti-inflammatory properties due to the very nature of the cannabinoids present in the formula. In addition, the presence of CBD helps in cases of anxiety and chronic stress, lowering levels of physical and muscular tension.
Together, CBN, CBD and melatonin act as neuroprotectants and highly useful antioxidants.
---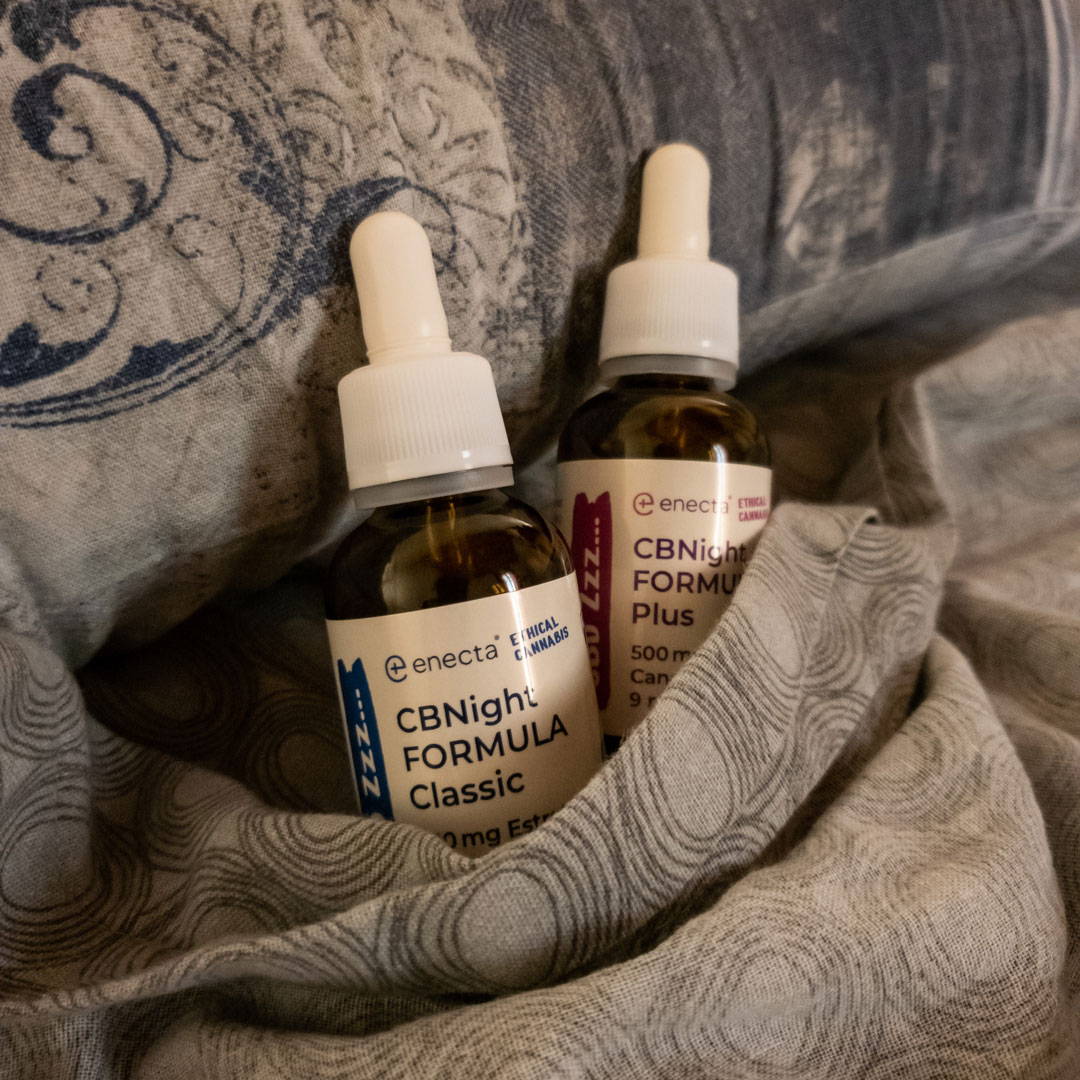 This sleep tincture should ideally be applied under the tongue. 30 minutes before bed, dilute 1 ml in a bit of water, apply in the oral cavity, and leave for 1 minute. Rinsing is not necessary.
It is essential to remember to shake the CBNight Formula bottle well before each use.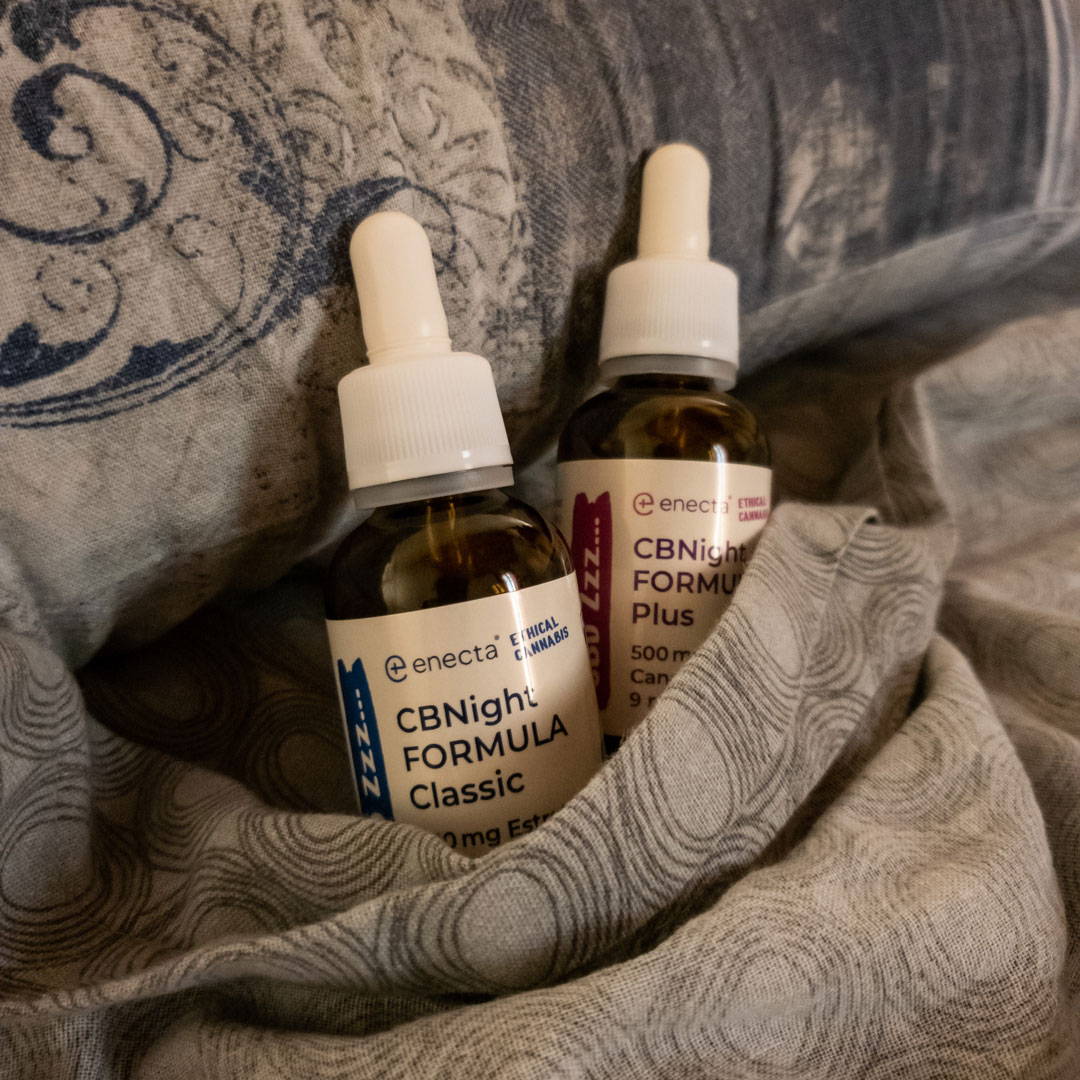 ---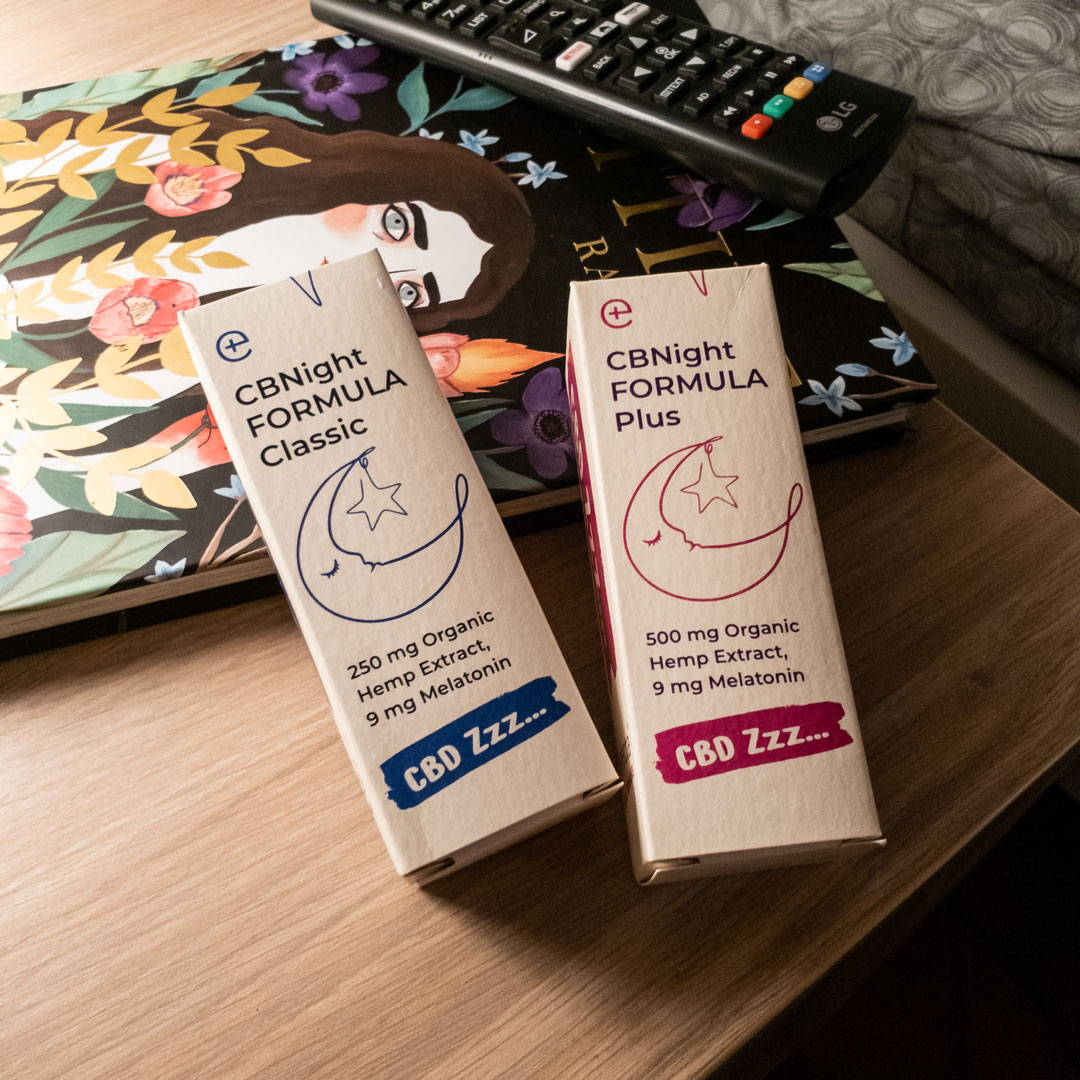 While in the case of CBD oil, the question of dosage is very personal and subjective, for taking CBNight Formula we can give you a precise dosage.
It is a perfectly balanced formula of cannabinoids and melatonin, and the recommended dosage is 1 ml per day, taken in the evening, half an hour before going to bed.
It is important to keep the bottle out of the reach of small children.
It is not intended as a substitute for a healthy, balanced diet.
---
Do the Enecta products contain THC?
The THC is removed from our products, therefore only a minimum close to zero traces are present, less than 0.2%, incapable of generating unwanted and collateral effects.
Do the products contain soy or allergens?
The products can contain traces of soy deriving from the extraction of Vitamin E which is naturally present in the tocopherols.
Are the products Gluten-free?
The hemp plants are naturally free of gluten and in the production premises of our CBD-based extracts we only use Hemp and its derivatives. However, to protect consumers and to exclude any type of process of contamination, the test is periodically carried out according to EU Regulation 828/2014 at accredited laboratories.
---
Free shipping starting from 20 euros. Delivery within 48/72 hours
Once you completed the purchase you will be sent an e-mail that will confirm the successful transaction. Afterward, a second e-mail will be sent to you informing you about the successful delivery to the carrier, along with its tracking number, so you can update your delivery process in "real-time".

We would like to remind you, however, that our customer service is available from Monday to Friday from 9 am to 5 pm.
---
Satisfy or refund warranty
Thanks to the "satisfy or refund warranty" you have up to 30 days to return free from fees the product that doesn't satisfy you.

Regular price

€24,95
Unit price

per
Tax included.
Couldn't load pickup availability.